The Faculty of Information Technology is a modern academic institution that has successfully been educating professionals in the field of information technology for ten years. Its objective is to provide highly qualified and competent personnel in the field of information technology for economy, national services and financial institutions.
The syllabus is based on the model of the leading European faculties of information science using past experiences in our country. The lectures, recitations and professional training are conceived to form highly educated personnel fully operative to respond the high demands of world market. The curriculum and syllabus, as well as the complete teaching process, are compliant with the principles of the Bologna Declaration. Programmes of major software companies are included through syllabus providing students with topicality of knowledge acquired during studies.
One study programme with three courses is studied at the Faculty of Information Technology: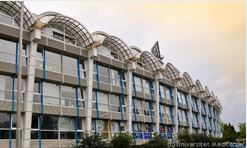 Information systems                                                  
Software engineneering
Computer networks and telecommunications
The first four semesters are common for all three courses, and in the fifth semester students choose one of the offered courses. Completing the studies successfully, students acquire the academic title Bachelor of Information Technology, and the completed course and achieved grades are stated further in the Diploma.
Teaching
Teaching is adjusted to current economy needs for qualified IT personnel, so during studies, students may acquire the diplomas of eminent and recognized companies (Microsoft, Cisco, Oracle, Cambridge, ECDL). These diplomas are guarantee that our students have knowledge equivalent to that provided by recognized world faculties of this field. The lectures are held by native and foreign professors affirmed as leading experts in referent fields.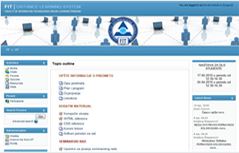 The number of enrolled students (100); organization of lectures, sessions and seminars in small groups (about 20 students); affirmation of interactive approach in holding single lecturing forms in modernly equipped rooms and laboratories and professional practice continuously held during summer and winter vacations, ensure all necessary conditions for students to acquire knowledge that modern IT experts are expected to have.
Introducing Distance Learning System (DLS), the Faculty of Information Technology has become the first faculty in Montenegro that offered learning from distance. The students who choose distance learning go through the same curriculum and have exams the same way as students who study in classic way, so they all get the same diploma.