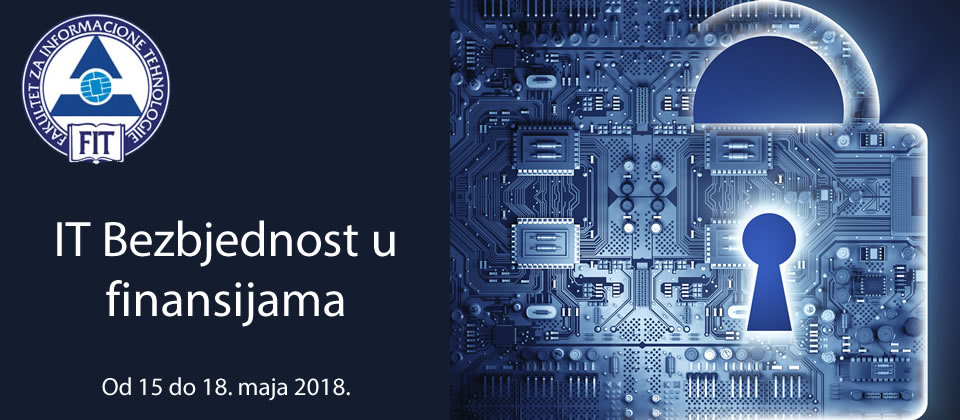 The Faculty of Information Technology organizes training course in the field of IT security in  finances from 15-18 May, 2018. The aim of the training course is to acquire the necessary general knowledge on risk management with emphasis on IT risks. The participants will also get acquainted with the latest version of the standards for risk management ISO 30001. Training provides a cross-section of the most important regulatory requirements for financial institutions.
A new regulation of the European Parliament and Council of the European Union, known as the General Data Protection Regulation (GDPR), will be presented, as well as the ISO/IEC 27001 standard, which was one of the basic standards used in the drafting of laws related to security information.
What does the training course include?
The training course includes: basics of IT audit, scope, models, information on how to document the systems, evaluation of  auditing efficiency, planning, testing and reporting. The training program is based on theoretical lectures and practical exercises. All trainees who pass the exam will receive a certificate on completed training "IT Security in Finance: IT Risks to ISO 30001, Information Security Management System ISO/IEC 27001, GDPR, IT Audit".
The training course is intended for executives and employees in financial institutions, IT services, security services for the information system and offices for continuity of management services. Employees in business sectors who want to increase the level of control over their IT processes, persons responsible for risk management and protection of business information, as well as everyone who has the need to manage access rights and protection of information themselves due to high level of accountability, regulatory requirements and risks in everyday business.
The lecturer
The lecturer is a long-time lecturer Zoran Vragolović, a Bachelor of Electrical Engineering, Department of Electronics and Informatics. He has more than 20 years of experience in developing software and security solutions. Colleague Vragolović is the leading reviewer for ISO/IEC 27001, ISO/IEC 20000-1, ISO 22301, ISO 9001, ISO 14001, ISO 50001. CSA (Cloud Security Alliance) STAR grader.
The requirement for participation in training is a fee of 350 €. The fee will be paid into the current account, which will be indicated on the invoice, which we will submit after registering your participation in the seminar. The organizers provide each participant with: A press presentation of the lecturer, Audiovisual means for realization of the seminar, Service during a break, Certificate.
Because of the limited number of places, the organizers are asking all interested parties to timely report their participation and payment of the registration fee, but no later than April 31, 2018.
You can apply for training via e-mail:
obuka@unimediteran.net, or via contact phone number: +382(0)409-211.